Home>Health care products>thermalmassagerbed>v3plus
2)Thermal massager Bed V3 PLUS:
V3 Plus automatic thermal massage bed digital v3 has latest 3d & intellegent spine scanning technology, back lifting system, special breathing programs,heavy duty automatic jade rollers bed, music system relax your mind and body and feel fresh with this smart digital v3 thermal massage bed. . Give the best gift to your family by using the digital v3 massage bed. With higher levels of jade stones rollers intensity of acupressure.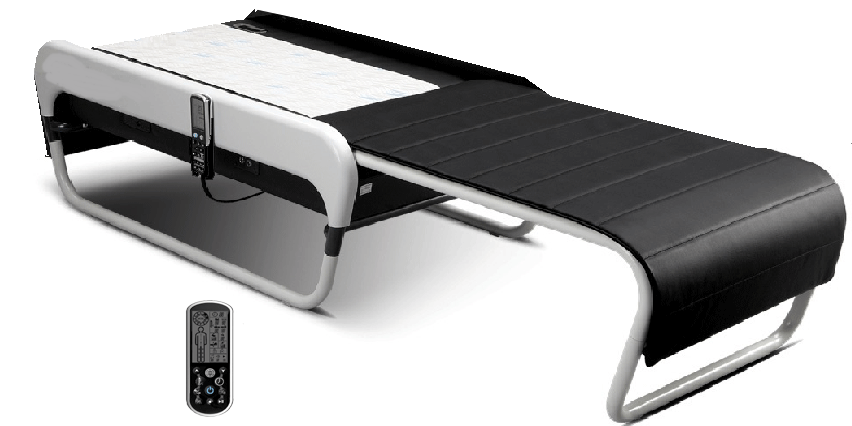 The internal rollers will do automatic spine scanning (measure the height and measure degree )…it will work from head to tail bone with best comfort zone of breathing program. . The internal projector covers the pressure points by running between the points of spine {cervical, thoracic, lumber, sacral, coccyx vertebrae…
Special features:
jade stone rollers with advance technology.
Automatic back lift
12 modes
Intelligent spine scanning
Collapsible design
Space saving
Music enjoyment
Tripple motor
Heavy duty bed with 80 kgs weight
Fashionable & user friendly remote controller
Gave your family the best benefit of 7 principle—
Acupressure
Acupuncture
Chiropractic
Moxibustion
Massage
Far infrared rays
Ions

Features:
1. Internal projectors(heating IFR arrangment) for upper body
2.The design of the track for upper body is based on physiological curve of the human spine, the internal projector moves regularly along the five meridians on the back
3. The external therapy ball have 6 balls(heating IFR arrangment), the adjustable design can easily apply to multiple positions, more convenient for use.
4. An extra external 3-balls therapy ball(heating IFR arrangment) , beautifully practical.
5. Special internally installed heating device can achieve the optimal temperature.
6. The product is equipped with 09 massage function special for cervical vertebrae and lumbar vertebrae. Pressing on cervical vertebrae concentrate massage on cervical vertebra, pressing the lumbar vertebrae concentrate massage on lumbar vertebra, it also provides finger pressure and moxibustion effect.
7. Precise temperature control system, maximum temperature up to 75C, Applicable to any chill regions.
8. Remote control makes the operation convenient,
This type of the art physiotherapy bed is elaborately designed by specialists and an integration of human engineering principles,meridian and acupuncture principles and latest high KOREAN technologies

FOR DEMO VISIT AT OUR CENTER..APPOINTMENT COMPULSORY-8000573230
HIGHLIGHTS:
1)Company with ISO certificatioin
2)CE certification as per European standard
3)Two years warranty
4)Cash on delivery
5)Loan arrangment FACILITY