Home>Health care products>Thermal massager bed>Thermalmassager

1)Thermal massager:

Thermal massage bed is fully automatic
It has all latest features like – Leg side extra Jade Rollers with body height Setting option + carbon fibre heating panel for extra for infrared rays for fast recovery it is designed for Commercial as well as Home use. It is easy to use with automatic and manual modes.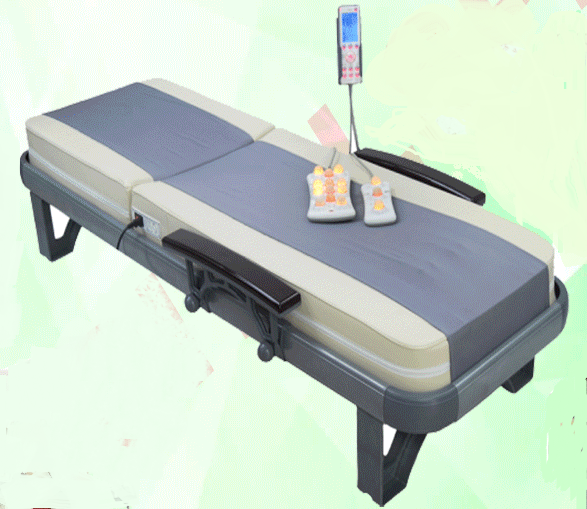 Features:
1. Internal projectors(heating IFR arrangment) for upper body and leg are installed respectively.
2. The design of the track for upper body is based on physiological curve of the human spine, the internal projector moves regularly along the five meridians on the back, the internal projector for the leg directly moves along the legs.
3. The external therapy ball have 9 balls(heating IFR arrangment) , the adjustable design can easily apply to multiple positions, more convenient for use.
4. An extra adjustable 3-balls therapy ball(heating IFR arrangment) , beautifully practical.
5. Portable adjustable 12-balls therapy head is convenient to apply at any area on the body.
6. Special internally installed heating device can achieve the optimal temperature.
7. The product is equipped with massage function special for cervical vertebrae and lumbar vertebrae. Pressing on cervical vertebrae concentrate massage on cervical vertebra, pressing the lumbar vertebrae concentrate massage on lumbar vertebra, it also provides finger pressure and moxibustion effect.
8. Can be programmed to apply repeated massage on a specific area (meet peoples individual needs).
9. There are 4 different massage modes for the upper body and legs respectively, providing more options for customers.
10. Precise temperature control system, maximum temperature up to 75C, Applicable to any chill regions.
11. Big LCD display makes the operation convenient, while the record function facilitates the assessment for purpose of after sales service.
This type of the art physiotherapy bed is elaborately designed by specialists and an integration of human engineering principles,meridian and acupuncture principles and latest high KOREAN technologies
.
FOR DEMO VISIT AT OUR CENTER..APPOINTMENT COMPULSORY-8000573230
HIGHLIGHTS:
1) Company with ISO certificatioin
2)CE certification as per European standard
3)Two years warranty
4)Cash on delivery
5)Loan arrangment FACILITY